We're aye Blyde to see you!
Customer service excellence
Our mission is to inspire change by delivering excellent products with stand-out customer service, and support other local businesses to do the same through training and industry-standard qualifications.
We're passionate about Shetland's food and drink and tourism industries and believe that, with excellent service, the two can work harmoniously together, providing both locals and visitors alike with a great experience. We also firmly support local producers such as the dairy, bakery, butcher and local egg suppliers.
Doing the right things by others
We know that every choice we make has the potential to impact others. That's why we're very specific about the suppliers we choose to work with.
Our partnership with The Orkney Roastery is founded on their association with Coffee Kids, a global charity which collaborates with the next generation of coffee farmers, helping them realise their potential and become an integral part of the coffee community. Euan and Sara at the Roastery work closely with Interamerican, who supplies our beans and gives 10% of their profits to Coffee Kids.
Celia founded Blyde Welcome in 2018, but our story goes back quite a bit further!
This is our journey so far.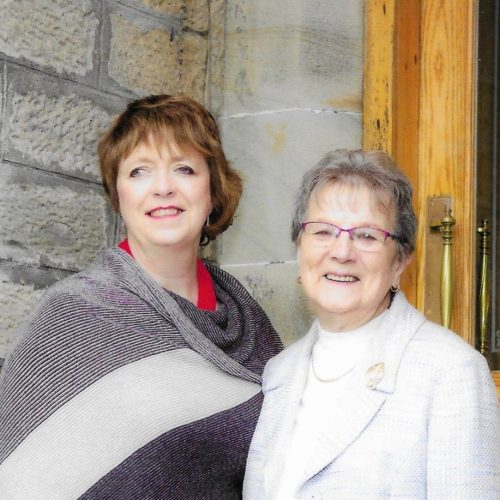 Celia discovered her passion for hospitality and excellent customer service whilst waitressing part-time at a local hotel, 'Kveldsro', owned by Jim and Irene Williamson, who she credits as her inspiration for her future career.
Celia learnt the trade of working in boutique hotels and resorts across the country, including Coylumbridge Hotel in Aviemore and the Loch Rannoch Highland Club. She was also part of the original team that opened The Grange Hotel in York: an award-winning hotel known for its friendly welcome, attention to detail and exemplary service.
Drawn by her love for Shetland, Celia returned home to bring up her family, including daughter Morag who now manages Blyde Welcome's social media.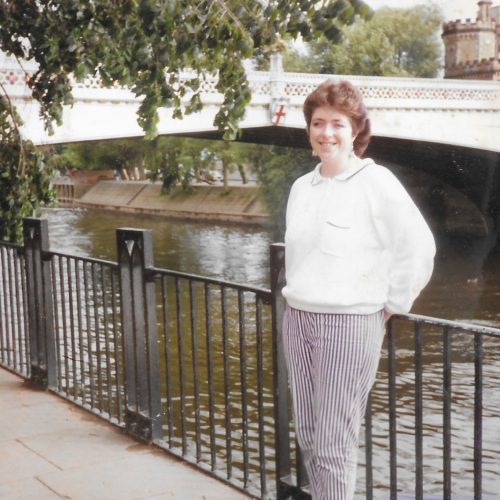 Taking everything she learned and experienced, Celia embarked on a 20-year teaching career at Shetland College UHI, latterly as Senior Lecturer for Business and Hospitality. In 2017, her students nominated her for the most inspiring lecturer award. Celia also became Shetland's only licensed WorldHost trainer, delivering the popular Principles of Customer Service workshops.
Recognising a gap in the market for hospitality training, Celia founded Blyde Welcome with the aim of delivering Modern Apprenticeships to deliver modern apprenticeships in hospitality, professional cookery and retail.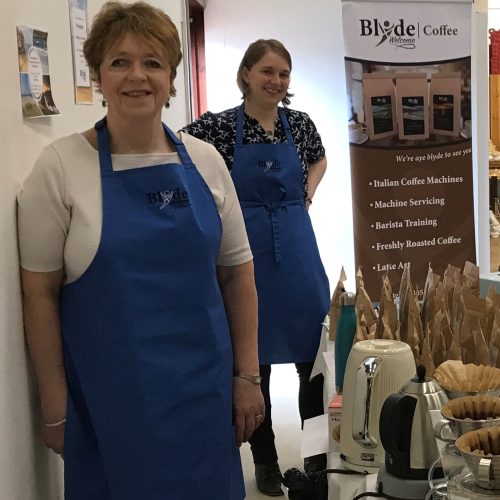 Reflecting on a different world post-pandemic, Celia realised that people still wanted to go out for their coffee and cake. She started working with Euan at The Orkney Roastery to look at how to bring coffee and tea services into the mix, whilst still continuing to support local businesses to deliver the very best service and meet customers' raised expectations.
We opened the Blyde Welcome shop and training centre! The shop sells our pre-packed, Shetland-themed coffee and eteaket tea and offers a simple takeaway service, including hot and cold drinks, sandwiches and cakes baked by our fantastic baker, Eleanor. And we'll soon be delivering Barista and Tearista skills workshops, cocktail masterclasses and hospitality training courses from our dedicated training space.
Dedicated coffee and tea drinkers and strong advocates of all that Shetland has to offer, the strength of our business lies in the people who are at the very heart of it.
Together we bring knowledge, experience and skills from hospitality, speciality coffee, catering, events management and education to provide the unique Blyde Welcome experience. A carefully selected blend of conscious coffee, tasty teas, masterclasses and hospitality training, reflect our commitment to delivering excellent, local products together with a warm and friendly Shetland welcome.
With a penchant for a cup of Lapsang Souchong, or if she's feeling indulgent, an Irish coffee (something she was introduced to back in the day whilst waitressing at a local hotel), Celia is the driving force behind Blyde Welcome.
After a 20 year teaching career, latterly as Senior Lecturer for Hospitality and Business, Celia was keen to deliver quality services for Shetland, providing vocational training and Modern Apprenticeships to upskill those working in local hospitality businesses. This passion for excellence remains unchanged as she leads the next chapter of Blyde Welcome's success.
When she's not changing the face of Shetland customer service, you can find Celia on Bain's beach enjoying an early morning dip.
Like her mum Celia, Morag is a trained barista and coffee lover. With a background in Events Management, Morag has the ideal skillset for the business; she's one of those people who gets things done – no matter how many things there are to do! She's also our Marketing Manager, much to the gratitude of Celia.
Morag works in London, but trips home to Shetland always include a trip to the beach, complete with a picnic. Morag's perfect day is a flask of Blyde Welcome coffee, a Spotify playlist, and a dip in the never-warm waters of St Ninian's beach.
Coffee aficionado Jenny has been our Barista Skills Trainer since we launched our coffee in 2022. Her natural curiosity drives her to delve deep into the world of coffee and understand every step of the system, from farm to cup.
A great morning for Jenny starts on Sanick, her favourite beach, with a cup of our Fethaland coffee freshly made with an Aeropress. However, she assures us if she could drag a La Scala espresso machine onto the sands, she would!
The baker in the team, Eleanor, is proud of her Shetland roots and ensures she uses local produce whenever possible. Good news for all Blyde Welcome customers as she produces the delicious cakes we pair with our coffees and teas.
Inspired by her mum, Eleanor went into catering 25 years ago. In that time, she has witnessed how food and eating habits have changed dramatically. She ensures special attention is paid to vegan, dairy-free and allergens, adapting her recipes to cater to our customers' tastes and needs.
Eleanor spent much of her childhood on Brough Beach on Whalsay, and it still holds a special place in her heart.
James has a background in hospitality and retail. Amongst his many talents, he has run a successful deli, managed a Real Ale micro pub and delivered many pop up events. We are delighted that he is joining our team.
James is a consummate communicator, has a great sense of humour, is a beer and whisky sommelier and now trained barista!
Having grown up close to Bain's beach, Bain's Colombian coffee is the go-to-coffee for James. He can regularly be found enjoying his morning cuppa and pointing out the delights of Bain's to passing visitors.
Sara and Euan set up The Orkney Roastery in 2016. From the outset, one of their key aims was to create a range of exciting espressos. After many failed attempts, the breakthrough finally came with their 'Overture' blend which has become our popular 'Peerie Spiggie'. Their range is developing all the time, but follows the same philosophy of getting the most out of every bean. As the Roastery is small and hands-on, this ensures that all our customers can experience that fabulous fresh roast taste.
When not at The Roastery, Sara enjoys crafting and looking for 'Groatie Buckies' (small shells said to bring good luck) on Aikerness beach in Orkney.  Euan is a vintage car enthusiast and has several projects on the go at any one time.
Discover Exceptional Coffee
Elevating Standards and Celebrating Local Flavour
Ready to embark on a coffee adventure?
Indulge in our exquisite brews, unlock the secrets of a perfect cup in our masterclasses, or join our hands-on workshops to enhance your hospitality skills.